Hola a toda la comunidad de oZeros.

Este es mi primer aporte(basado en experiencia real y experimentacion) en el foro y espero que les sea de gran utilidad a los usuarios de tarjetas AMD de la serie Radeon HD
Estuve buscando en el foro y no encontre relacion a este tema , asi que decidi hacer el post con respeto a esta caracteristica no muy usada por los jugadores con tarjeta amd(o si es usado, pues no debi hacer este post)




Empezemos entonces:

Si su tarjeta AMD Radeon HD indica que tiene esta tecnologia con este logo o lo especifica en las caracteristicas en la caja del producto:

Entonces su tarjeta puede convertir imagenes de 2D a 3D sin utilizar el convertidor 3D de su televisor, para esto ahi que tener un cable HDMI v1.4a este cable es compatible con reproduccion 3D y televisor y monitor compatible con 3D (solo he experimentado con televisor de 3D activo samsung y Tarjeta de video AMD RADEON HD 6950, solo he experimentado con una sola pantalla, el HD3D tambien se puede aplicar a la tecnologia EYE-INFINITY de 3 pantallas)

¿solo ahi que conectar el cable al televisor y ya vere en 3D? Pues NO!

ahi que usar un programa que solo es para esta tecnologia de AMD, se llama TRIDEF 3D


Al abrir el programa el 3D se tiene que activar solo, no usar el emulador 3D del televisor, El 3D se activara al usar los juegos, peliculas y fotografias a pantalla completa, en modo ventana no se podra hacer la "magia" el mismo programa da una advertencia que para activar el 3D la aplicacion debe estar en pantalla completa.



(pantalla de inicio del programa, esto se debe ver en 3D al ejecutar la aplicacion)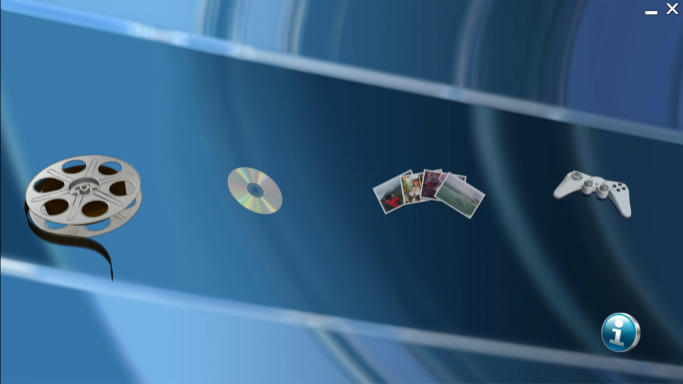 Caracteristicas:
-compatible con peliculas 3D (si es que el PC se usa como reproductor de Blu-ray 3D con un lector bluray 3D)
-ver peliculas DVD de 2D a 3D
-ver archivos de videos en variados formatos a 3D
-ver fotografias y archivos de imagenes en 3D
-jugar en 3D
-profundidad del 3D totalmente regulable a gusto del usuario

¿Como hacer que al ejecutar un juego, este se vea en 3D?

Ahi que configurar el Programa tridef 3D ignition ¿como? les dejare unas imagenes.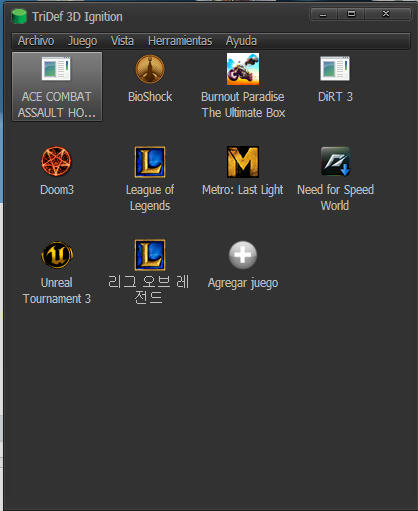 (Esta es la aplicacion para usar los juegos con el 3D) Ir a herramientas - Mostrar configuraciones (ver abajo)
Listado de juegos compatibles al 100%
80 Days A.R.E.S.: Extinction Agenda AaaaaAAaaaAAAaaAAAAaAAAAA!!! AC-130: Operation Devastation Age of Booty Age of Empires 3 Age of Empires 3: The Asian Dynasties Age of Empires 3: The War Chiefs Aion Alan Wake Alice Madness Return Alien Breed 2: Assault Alien Breed 3: Descent Alien Breed: Impact Alien Swarm Aliens Vs Predator [Power 3D only] All Zombies Must Die! Alliance of Valiant Arms [DX9 only] Allods Online Alpha Prime Alpha Protocol Alpine Ski Racing 2007 America's Army 3 Ancient Wars: Sparta Ancients of Ooga Ankh Heart of Osiris Anno 1404 (Dawn of Discovery) [DX9 only] Anno 2070 Anomaly 2 Antichamber APB Arma Arma II Arma II: Operation Arrowhead Arma: Combat Operations Armed and Dangerous Armed Forces Armies of Exigo Ashes Cricket 2009 Assassin's Creed [DX9 only] Assassin's Creed 2 Assassin's Creed Brotherhood Assassin's Creed III Assassin's Creed Revelations Assault Heroes Avatar: The Game Back to the Future: The Game Batman: Arkham Asylum Batman: Arkham City [DX9 only] Battle Forge [DX9 only] Battle of Europe Battlefield 2 Battlefield 2142 Battlefield 3 Battlefield Heroes Battlefield: Bad Company 2 Battlestar Galactica Battlestations: Pacific Bee Movie Game Besieger Binary Domain Bionic Commando BioShock BioShock 2 BioShock Infinite Black and White 2 Black Mesa Blacklight: Retribution Blade Kitten Blades of Time Blocktality Blood Bowl Bloody Good Time Blur Bootfighter Windom Borderlands Borderlands 2 Breed Brothers - A Tale of Two Sons Brothers in Arms: Hell's Highway Bulletstorm Burnout Paradise: The Ultimate Box [DX9 only] Call of Duty 2 Call of Duty 4: Modern Warfare Call of Duty: Black Ops Call of Duty: Black Ops II Call of Duty: Modern Warfare 2 Call of Duty: Modern Warfare 3 Call of Duty: World at War Call of Juarez Call of Juarez: Bound in Blood Call of Juarez: Gunslinger Carrion Reanimating Castlevania: Lords of Shadow Champions Online Chivalry: Medieval Warfare Cities XL Civilization IV Civilization IV: Beyond the Sword Civilization V [DX9 only] Civilization V - Gods and Kings [DX9 only] Clive Barker's Jericho Clones Code of Honor 2: Conspiracy Island Collin McRae Rally 3 Command & Conquer 3: Kane's Wrath Command & Conquer 3: Tiberiam Wars Command & Conquer 4 Command & Conquer: Red Alert 3 Commandos Strike Force Company of Heroes Company of Heroes 2 Company of Heroes: Opposing Fronts Company of Heroes: Tales of Valor Condemned: Criminal Origins Counter-Strike: Global Offensive Counter-Strike: Source Crash Time 2 Burning Wheels Cryostasis: Sleep of Reason Crysis Crysis 2 Crysis 3 Crysis Warhead Damnation Dark Horizon Dark Messiah of Might and Magic Dark Souls Dark Void Darksiders Darksiders II Darkspore DarkStar One Dawn Of Magic DC Universe Online De Blob Dead Island Dead Island Riptide Dead Reefs Dead Rising 2 Dead Space 2 Dead Space 3 Deadlight Deadpool Death Track Resurrection Defenders of Ardania Defense Grid: The Awakening Delta Force: Extreme 2 Demigod Depth Hunter Deus Ex: Human Revolution Devil May Cry 3 Devil May Cry 4 Diablo III Diamond Dan DiRT (Colin McRae) DiRT 2 DiRT 3 DiRT Showdown Dishonored Divinity 2: Ego Draconis DmC: Devil May Cry Dota 2 Dracula Origin Dragon Age 2 Dragon Age: Origins Dragon Age: Origins - Awakening Drakensang Online Drakensang: The Dark Eye Dream Pinball 3D DRIV3R Driver Parallel Lines Driver: San Francisco Duke Nukem Forever Dungeon Defenders Dungeon Siege III Dungeons Dungeons and Dragons Online Dynasty Warriors 6 Dynasty Warriors Online E.Y.E: Divine Cybermancy Earth 2160 Elder Scrolls IV: Oblivion Elder Scrolls V: Skyrim Elven Legacy Empire Earth III Empire Total War Euro Truck Simulator Euro Truck Simulator 2 Europa Universalis III EVE Online Evolution GT F.E.A.R. F.E.A.R. 2: Project Origin F.E.A.R. 3 F.E.A.R. Extraction Point F.E.A.R. Perseus Mandate F1 2010 F1 2011 F1 2012 F1 Race Stars Fable III Fable: The Lost Chapters Faces of War Fairy Bloom Freesia Fallen Earth Fallout 3 Fallout 3: Broken Steel Fallout 3: Mothership Zeta Fallout 3: Operation Anchorage Fallout 3: Point lookout Fallout 3: The Pitt Fallout New Vegas Fantasy Wars Far Cry Far Cry 2 [DX9 only] Far Cry 3 Far Cry 3 - Blood Dragon FIFA 08 FIFA 09 FIFA 10 FIFA 11 FIFA 12 FIFA 12: UEFA EURO 2012 FIFA 13 FIFA Online FIFA Online 2 Final Fantasy XIV Final Fantasy XIV - A Realm Reborn FlatOut FlatOut 2 Football Manager 2009 Football Manager 2010 Football Manager 2011 Foreign Legion: Buckets of Blood Frontlines Fuel of War Fuel Galactic Civilizations II: Gold Edition Galaxy on Fire 2 Full HD Garry's Mod Garshasp The Monster Slayer Gears of War G-Force Ghost Recon Advanced Warfighter Ghostbusters Ghostbusters: Sanctum of Slime Giana Sisters: Twisted Dreams Google Earth Gotham City Imposters Gothic 3 Grand Ages: Rome Grand Theft Auto IV Grand Theft Auto IV: Episodes from Liberty City Grand Theft Auto: San Andreas Grid (Race Driver: Grid) GRID 2 Ground Control II: Operation Exodus GTR 2 GTR Evolution Guardians of Graxia Guild Wars Guild Wars 2 Guild Wars: Eye of the North Guild Wars: Factions Guild Wars: Nightfall Guitar Hero 3 Gun Half-Life 2 Half-Life 2: Deathmatch Half-Life 2: Episode One Half-Life 2: Episode Two Half-Life 2: Lost Coast Halo 2 Halo Combat Evolved Harry Potter and the Goblet of Fire Harry Potter and the Half-Blood Prince Hawken Hegemony Gold: Wars of Ancient Greece Hegemony: Philip of Mecedon Hellgate London [DX9 only] Heroes of Might and Magic 5 Heroes of Might and Magic 5: Hammers of Fate Heroes of Might and Magic 5: Tribes of the East Heroes of Newerth Hitman: Absolution Hitman: Blood Money Homefront I Am Alive Ice Age: Dawn of the Dinosaurs I-Fluid Imperium Romanum Infernal iRacing Jack Keane Jade Empire James Bond 007: Blood Stone Journeys of the Dragon Rider Juiced 2 Hot Import Nights Just Cause 2 Jutland Kane & Lynch 2: Dog Days Kane & Lynch: Dead Men King's Bounty: The Legend Kingdoms of Amalur: Reckoning King's Bounty: Armored Princess Kong KungFu Strike LA Noire [DX9 only] Lara Croft and the Guardian of Light Lead and Gold: Gangs of the Wild West League of Legends Left 4 Dead Left 4 Dead 2 Legend: Hand of God Legendary Lego Batman Lego Indiana Jones Lego Indiana Jones 2 LEGO Lord of the Rings Lego Star Wars Lego Star Wars II: The Original Trilogy Lego Universe Leisure Suit Larry: Box Office Bust Lineage 2: Oath of Blood Lineage 2: The Chaotic Throne - Gracia Lineage 2: The Chaotic Throne - Interlude Loki Lost Horizon Lost Planet 2 Lost Planet: Extreme Condition Lost Planet: Extreme Condition (Colonies Edition) Lost: Via Domus Madagascar: Escape 2 Africa Madden NFL 2007 Madden NFL 2008 Mafia 2 Magic: The Gathering - Duels of the Planeswalkers Magic: The Gathering - Duels of the Planeswalkers 2012 Magicka Majesty 2 Marvel Heroes Mass Effect 2 Mass Effect 3 Maw Max Payne 3 MechWarrior Online Medal of Honor - Multiplayer Medal of Honor - Single Player Medal of Honor Warfighter Medieval 2 - Total War Memento Mori Men of War Men of War: Assault Squad Mercenaries 2: World in Flames Metro 2033 Metro: Last Light Micro Machines 4 Microsoft Flight Microsoft Flight Simulator X [DX9 only] Midnight Club II Midway Area 51 Might and Magic Heroes VI Mini Ninjas Minigolf Adventures Mirror's Edge MLB 2K9 Monsters vs. Aliens Mortal Online MotoGP 08 MTX Mototrax Naval War: Arctic Circle NBA 2K10 NBA 2K11 NBA 2K12 NBA 2K9 Need for Speed: Carbon Need for Speed: Hot Pursuit Need for Speed: Most Wanted (2005) Need for Speed: Most Wanted (2012) Need for Speed: ProStreet Need for Speed: Shift Need for Speed: Shift 2 Unleashed Need for Speed: The Run Need for Speed: Undercover Need for Speed: Underground 2 Need for Speed: World NHL 06 Nikopol Nimbus Ninja Blade Nitronic Rush Octodad Operations Flashpoint: Dragon Rising Orcs Must Die Orcs Must Die 2 Order of War Outlast Overlord Overlord II Painkiller Overdose Painkiller: Resurrection Path of Exile PAYDAY: The Heist Perimeter Perimeter II: New Earth Perimeter: Emperor's Testament Planets Under Attack Planetside 2 Portal Portal 2 Pound of ground Primal Carnage Prince of Persia: The Forgotten Sands Prince of Persia: The Sands of Time Prince of Persia: Warrior Within PRISM Guard Shield Pro Evolution Soccer 2008 Pro Evolution Soccer 2009 Pro Evolution Soccer 2010 Pro Evolution Soccer 2011 Pro Evolution Soccer 2012 Pro Evolution Soccer 2013 Prototype Prototype 2 Proun Psychonauts Pure Putt Nutz Pyroblazer Q.U.B.E Quantum Conundrum Quantum of Solace Quantz R.U.S.E. Ravaged Rayman Origins RealFlight 6 Remember Me Resident Evil 4 Resident Evil 5 Resident Evil 6 rFactor rFactor2 Richard Burns Rally Rift Rise and Fall: Civilizations at War Rise of Flight Rise of the Argonauts [DX9 only] Risen Risen 2: Dark Waters Risk Factions Rochard Rock of Ages Rogue Trooper Roller Coaster Tycoon 3 Romance of the Three Kingdoms XI Runespell Overture Rush for the Bomb Saboteur Sacred 2: Fallen Angel Sanctum Sanctum 2 Savage 2: A Tortured Soul SCANIA Truck Driving Simulator Section 8 Sega Rally Serious Sam 3: BFE Serious Sam HD Shadowgrounds: Survivor Shadowrun Shank Shattered Horizon Shellshock 2: Blood Trails Sherlock Holmes versus Jack the Ripper Sherlock Holmes: Awakend Sherlock Holmes: Nemesis Ship Simulator Extremes Silent Hill Homecoming Silent Hunter 4: Wolves of the Pacific Silent Hunter 5: Battle of the Atlantic Sim City Society SimCity (2013) Singularity Sins of a Solar Empire Sins of a Solar Empire: Diplomacy Sins of a Solar Empire: Entrenchment Ski Challenge 2013 Sleeping Dogs Sniper Elite V2 Sniper: Ghost Warrior SOL: Exodus Sonic & All-Stars Racing Transformed Sonic Generations Sonic the Hedgehog 4: Episode II Space Siege SpaceForce Captains Spec Ops: The Line Split Second Spore Spore Creature Creator STALKER - Call of Pripyat Star Conflict Star Raiders Star Trek Star Trek D-A-C Star Trek Online Star Wars: Battlefront 2 Star Wars: Empire at War Star Wars: The Force Unleashed Star Wars: The Force Unleashed II Star Wars: The Old Republic StarCraft II Starship Troopers Stormrise Street Fighter IV Street Fighter x Tekken Strike Suit Zero Strong Bad Episode 1 - Homestar Ruiner Strong Bad Episode 2 - Strong Badia Strong Bad Episode 3 - Baddest of the Bands Strong Bad Episode 4 - Dangeresque 3 Strong Bad Episode 5 - 8 Bit is Enough Stronghold 2 StuntMania Super Monday Night Combat Super Taxi Driver 2006 Supreme Commander Supreme Commander 2 Surgeon Simulator 2013 Sword of the Stars Syndicate System Protocol One Tales of Monkey Island Team Fortress 2 Teenage Mutant Ninja Turtles The Ball The Bureau: XCOM Declassified The Chronicles of Narnia: The Lion, the Witch and the Wardrobe The Darkness II The Godfather II The Incredible Adventures of Van Helsing The Incredibles The Last Remnant The Lord of the Rings Online - Shadows of Angmar The Lord of the Rings Online: Mines of Moria [DX9 only] The Lord of the Rings: Conquest The Lord of the Rings: The Battle for Middle-earth The Lord of the Rings: The Battle for Middle-earth II The Movies The Secret World The Settlers II - 10th Anniversary The Sims 2 The Sims 2: Bon Voyage The Sims 2: Nightlife The Sims 3 The UnderGarden The Walking Dead The Witcher The Witcher 2: Assassins of Kings Theatre of War 2 Tiger Woods 2007 Tiger Woods 2008 Titan Quest Tom Clancy's EndWar Tom Clancy's Ghost Recon Future Soldier Tom Clancy's HAWX [DX9 only] Tom Clancy's HAWX 2 Tom Clancy's Splinter Cell Conviction Tomb Raider (2013) Tomb Raider: Anniversary Tomb Raider: Legend Tomb Raider: Underworld Tony Hawk's American Wasteland Tony Hawk's Pro Skater HD Torchlight Torchlight 2 Total War Shogun 2 [DX9 only] Total War: Rome II Toy Story 3 Trackmania Nations Trainz Simulator 12 Transformers Transformers: Revenge of Fallen Tribes Ascend Trine Trine 2 Tron: Evolution Tropico 3 Tropico 4 Tryst Two Worlds Two Worlds II Universal Combat Universe at War Earth Assault Unreal Tournament III Unstoppable Gorg Up Vancouver 2010 Velvet Assassin Virtual Earth Wallace and Gromit Grand Adventures Wall-E War Thunder Warhammer 40,000: Dawn of War Warhammer 40,000: Dawn of War - Dark Crusade Warhammer 40,000: Dawn of War - Soulstorm Warhammer 40,000: Dawn of War - Winter Assault Warhammer 40,000: Dawn of War II [DX9 only] Warhammer 40,000: Dawn of War II - Chaos Rising [DX9 only] Warhammer 40,000: Dawn of War II - Retribution Warhammer 40,000: Space Marine Warhammer Online: Age of Reckoning Warmonger Watchmen: The End is Nigh Wheelman Wings of Prey Wolfenstein (2009) World in Conflict World of Tanks World of Warcraft World of Warcraft: Burning Crusade World of Warcraft: Lich King WorldShift X Motor Racing X3: Reunion X-Blades XCOM: Enemy Unknown X-Men Origins: Wolverine Zeno Clash Zombie Driver Zombie Driver HD

obiamente se pueden cargar otros juegos , pero no sera lo mismo, ya que si el juego que desea agregar esta dentro de la lista, se le aplicara un perfil que esta optimizado para tal juego, en cambio si el juego no esta, se debe seleccionar generico y la profunidad de las imagenes es variable segun el juego.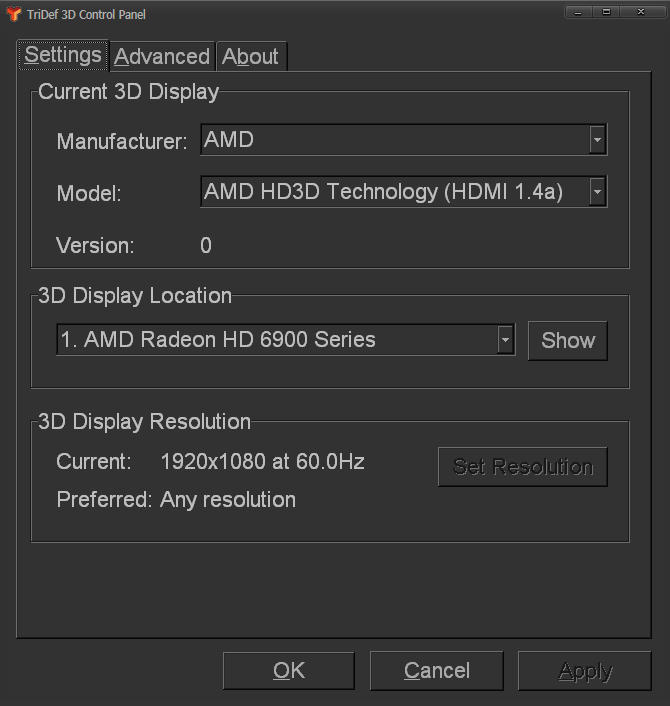 Estando con esta configuracion, ahi que revisar la configuracion de la tarjeta de video en CATALYST CONTROL CENTER de AMD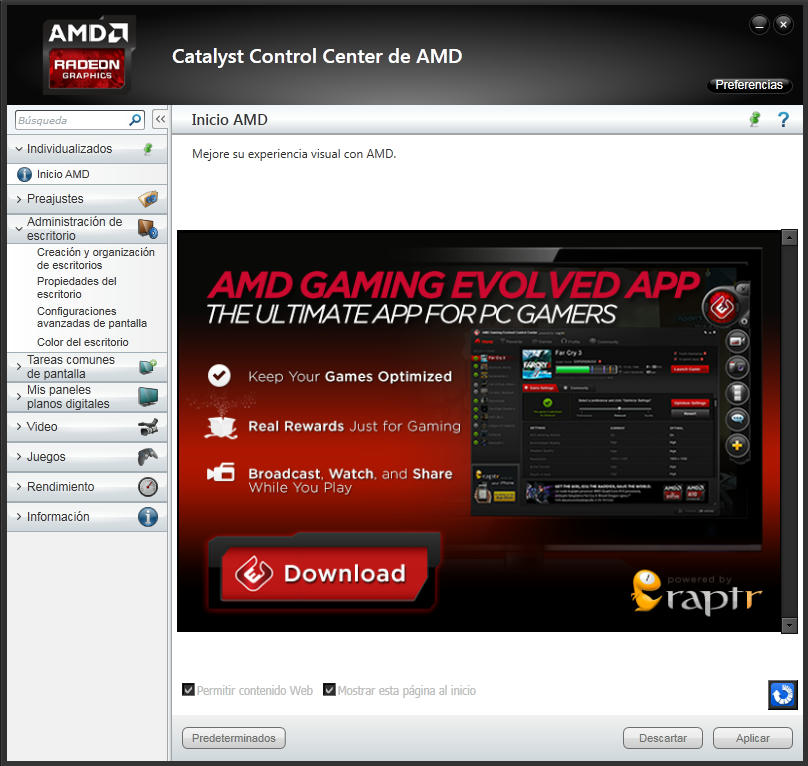 En la pestaña de "administracion de escritorio" - "propiedades del escritorio" debe estar en esta configuracion (ver abajo)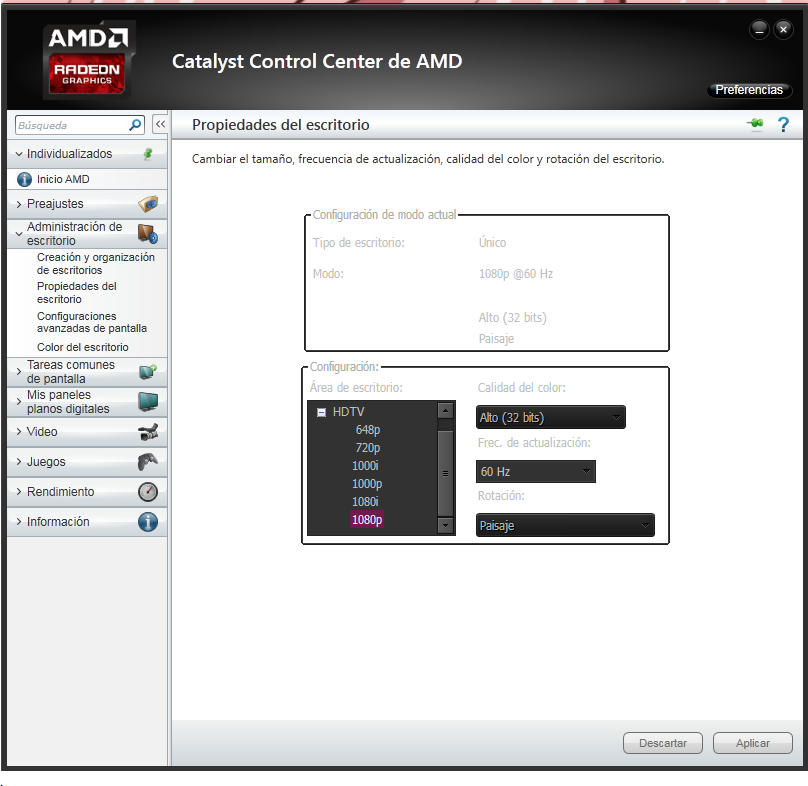 para que el 3D se active correctamente, debe estar en 1080p (p= progressive) en 60 hz de frec. de actualizacion

Ya con esto, el tridef deberia usar la caracteristica del HD3D de su tarjeta AMD.

Ultimo paso, agregar el juego que desee , activar sus lentes 3D y a disfrutar!!!

(Nota: para que el juego sea ejecutado con 3D, ahi que ejecutar el juego con el tridef ignition (ver imagenes de arriba de ejemplo, del icono verde

)


Saludos a toda la comunidad y espero que este post les haya sido de gran ayuda y espero hacer mas aportes en el futuro

Para todos ustedes el programa:
https://mega.co.nz/#!NQlGlb5I!Hnyh12JGUFWym-Wvc421hDencA8MkD2M4YIzYWB4pa4

sin pass el rar